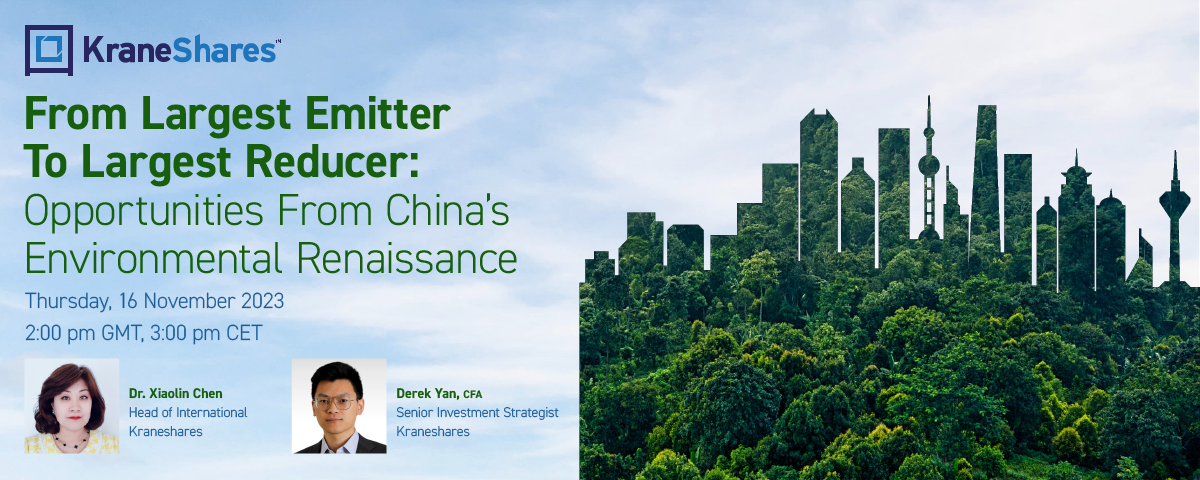 webinars
Replay: From Largest Emitter To Largest Reducer: Opportunities From China's Environmental Renaissance
Thursday, 16 November 2023 2:00 pm - 3:00 pm GMT 3:00 pm - 4:00 pm CET
Please register below to view this replay
Event Details:
Replay: From Largest Emitter To Largest Reducer: Opportunities From China's Environmental Renaissance Thursday, 16 November 2023 2:00 pm - 3:00 pm GMT 3:00 pm - 4:00 pm CET
China has gone from being the world's largest emitter of greenhouse gases to leading the energy transition. To do this, China has leveraged its low costs of labor and capital and excess industrial capacity to produce electric vehicles, solar panels, and other clean technologies that are crucial to the energy transition. Some of the country's largest and most impressive companies are fueling decarbonization efforts not only at home but also globally. In doing so, they are becoming globally recognized brands, such as NIO and BYD.
The country's policy coherence has created an ideal environment for clean technology companies to thrive, compared to Europe, where policy varies widely between countries, and the US, where political shakeups can threaten the long-term economic viability of clean energy projects.
We are proud to have launched the KraneShares MSCI China Clean Technology Index UCITS ETF (Ticker: KGRN) on the London Stock Exchange, Borsa Italiana, and Deutsche Börse XETRA last month. KGRN is an Article 8 investment under the EU Sustainable Finance Disclosure Regulation (SFDR). The Fund provides investors with a comprehensive tool to access many firms leading the energy transition worldwide. We believe China's clean technology sector should be a key component in any global allocation to climate impact equities.
Join KraneShares Head of International Dr. Xiaolin Chen and Senior Investment Strategist Derek Yan, CFA, as they discuss:
How economic and policy factors have made China ripe for climate change innovation
Why the world's largest emitter has become an agent of change for global carbon emissions
The investment case for the leading companies in China's clean technology ecosystem
The latest developments in China's clean technology ecosystem
An in-depth look at KGRN, KraneShares' latest UCITS ETF
For KGRN standard performance, top ten holdings, risks, and other information, please click here.
This is a marketing communication. Please refer to the prospectus of the UCITS, the KIIDs, and the PRIIPs before making any final investment decisions.
This is not a recommendation to buy or sell any security.